Q&A
How has the role of the CTO changed?
01/12/2021
Samantha Hildyard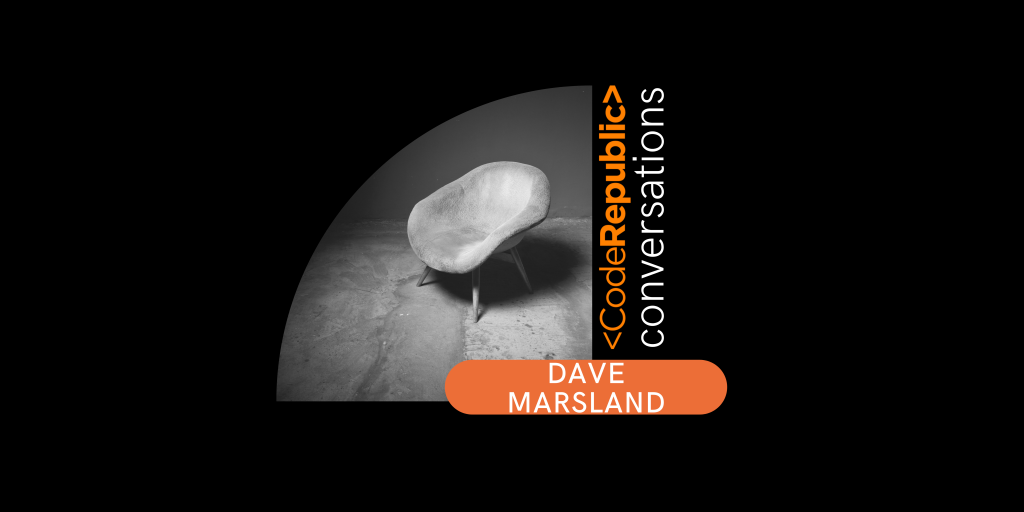 Your career in tech has been incredibly successful, could you tell us about your journey to date? How did you get to where you are today as the CTO at Finematter?

Dave Marsland (DM): I actually had a pretty a-typical journey, albeit with a reset in the middle… My background is software engineering, from education and experience, and always trended towards Marketplaces, which I find fascinating with the B2B2C model. Started off in Sheffield for my first engineering role 14 years ago, then moved down to London to work at Totaljobsgroup as an Engineer. Worked my way up to being Engineering team lead of 60 but missed the hands-on aspects of the role, so moved to Just Eat as a Senior Engineer, where I took the same journey up to being Senior Tech Manager for global search.

At that point I wanted to take my experience and help build something from an earlier stage, so took a step away from marketplaces and moved to Paddle to grow their engineering team from 7 to 35, which was a fantastic introduction to the hectic world of Startups. After 3 years there I missed that B2C focus and moved on to Hussle, always difficult to be at a gym marketplace in a Pandemic, but the team there are excellent and we fundamentally rearchitected the platform together during a challenging time.

Caroline and me at Finematter got in touch with me, and working at such an exciting early stage company with such a clear goal, to improve the ability of independent jewellery makers to sell online, was extremely attractive. It's my first CTO role having been VP Engineering in previous startups, and I'm loving it!
What are 3 key things you've learnt on your journey to becoming a CTO?

DM:

Patience: take your time, moving from one role to the next can feel like you're ticking boxes, it's far more important to enjoy what you do that get that next job title

Business context: understanding the whole business and each department is the only way to be successful in building software that solves the user problems

User focused: I'm not a fan of building things that are technically great but without a purpose, and I find users fascinating, they'll always surprise you!
How would you describe your journey having gone from manager back to developer, then back into a managerial role?

DM: Genuinely scary! You never know in your career whether the move you're making is the right one or not, but I knew that I missed something I was passionate about. I was fortunate to find a company like Just Eat which had such a great environment to get more experience of wider roles and help me decide that I didn't miss the code, I missed the close collaboration. I took that lesson and made such my management style and companies I worked at fitted that philosophy.
Do you have any advice for others making a decision on whether to take the path to becoming a CTO or staying in a tech focused role?

DM: It isn't a life sentence! Try things, ask your manager to expose you to different business tasks, find what makes you happy and focus on finding that. The job roles and seniority will come, and you'll find that easier if you enjoy the roles you're in and the people you work with.
Could you share some of your insights, having worked within both large organisations like Just Eat and startups like Paddle?

DM: The size and number of people changes, but the problems stay the same. Once you understand the concepts of customer issues, jobs to be done, and staying calm when issues occur you're set for whatever comes your way.
What are some of your key strategies when it comes to leading high-performing tech teams?

DM: Understand your people, put the time in to knowing what their drivers are and their life factors that affect the decisions and career choices they make, and manage them with empathy. The tech problems are so much easier to solve than the people ones, put your time and effort into them and the team will be so much better as a result.

Also, empower people and trust them. Let them make supported mistakes and help them when they do, they'll learn far better lessons than you doing it all.
How does being a manager vary from working in a large company to a smaller startup? Do you have to tweak your key strategies based on the size of the team and organisation?

DM: As I mentioned before the fundamentals are the same. However you have to adapt how hands on you are depending on the size of company, so keeping a low ego is always important. If you think that you shouldn't be doing something just because you have a manager title in a smaller company then you're setting yourself and your team up for failure.
Do you think the role of a CTO has changed during your time in the industry? How would you define the role within businesses nowadays?

DM: I've seen CTOs move away from being the awful "10X engineer/superheroes" to be far more business focused, almost by necessity. It isn't scalable to have a single person who everyone sees with god-like reverence, because no decision will happen without their approval.
Could you give us your predictions on some things that you foresee being big in 2022? How will they impact the careers of engineers?

DM: Obviously the move to remote working has been a big change to other industries, but something that engineers have been comfortable with for years. You see a lot of companies championing that they now support flexible working, when any company focused on employee wellbeing has been doing this for a long time so I can only see this trend continuing in 2022.

If anything I think we'll start to do far more remote code pairing and virtual collaborative working, with offices becoming hubs for ideation and social contact. It might mean the death of ping-pong tables and in-office bars, but I think that's only a good thing to start to shift away from the culture of over-working and more towards a sustainable split of work time and personal life.